Key Highlights
Hyperautomation refers to an interconnected process transformation journey with four distinct stages- discovery, redesign, build, and run.
A single technology partner with connected solutions for each stage of the journey is the best way to make hyperautomation a reality.
A connected journey makes way for better integration and transition across at every stage, better collaboration between business and IT, and ultimately leads to improved business value.
Conventional wisdom- 'don't put all your eggs in one basket'. Also, conventional wisdom- 'too many cooks spoil the broth'.
Single technology partner or multiple vendors?
This classic debate has valid arguments on both sides of the table. Some who believe in the best-of-breed approach, do so to gain from competitive pricing, flexibility, and the freedom of selecting specialized providers. Some who think that a single vendor approach is best, do so for accountability, better integration, and support. While both approaches have their pros and cons, most organizations chose a multi-vendor set-up to mitigate the risk profile of the project.
However, applying this general view to your automation program and emerging trends such as hyperautomation requires careful consideration.
So, what's different?
Hyperautomation is a connected journey. 'Connected' is the operative word
According to Gartner, hyperautomation refers to the degree of automation sophistication i.e., discover, analyze, redesign, automate, measure, monitor, and reassess (see image below). Based on these parameters, this end-to-end change program can be broken down into four distinct stages. These four stages are highly connected, with insights and actions from each driving the next step: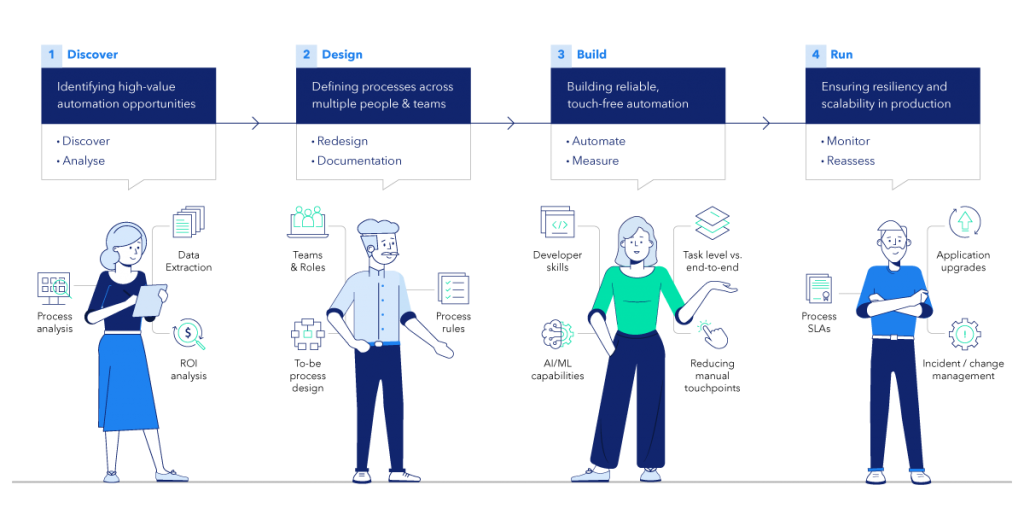 Discover: Any process transformation must begin with a complete and accurate understanding of how your teams execute the processes you want to streamline. This critical stage helps you identify areas of improvement in your existing processes and whether you need to standardize, automate, or eliminate legacy processes (read more about the value of comprehensive process discovery here.)
Design: The next step in this journey is to redesign the areas of improvement. The 'connected' experience here is the ability to use real-world insights from process discovery in process redesign to create better workstreams.
Build: According to a poll from our webinar with Bayer, 53% of the participants believe that cleaning up processes is a crucial step before automation. Redesigning 'to-be' processes form a significant part of this cleanup exercise. The 'connected' journey here is getting business and IT to collaborate on one platform to rework existing workstreams and then build scalable, end-to-end automation programs.
Run: The final piece in this process is consolidating data from multiple processes on a centralized console that makes it easier to assess, run, and monitor them. This should start the next phase of discover, refine, design, and build.
Hyperautomation thus goes beyond deploying bots for individual tasks. It represents a connected enterprise-wide change program that connects multiple teams and end-to-end workstreams. As leaders, it is important to keep in mind that the success of your program depends on how seamlessly you transition through these four critical stages. Especially when you are trying to drive a change program across geographically diverse teams, innumerable processes, and complex technology systems.
Think about it as the classic case of Apple. The brand has a cult following because instead of creating products, Apple created an experience. Sure, one could just use a MacBook, but experience is most powerful when you connect it with other parts of the Apple ecosystem (an iPhone, AirPods, etc).
The success of your change program depends on how seamlessly you transition across the four critical stages of your process transformation journey.
A single technology partner can simplify this journey through a connected suite of products
Till now, the marketplace has largely been a mishmash of vendors and system integrators offering individual solutions that solve for subsets of the journey. While small wins have been realized, the true promise of automation remains unfulfilled, leaving some to pronounce traditional RPA, as we know it, to be dead.
Analysts aren't the only ones coming to grips with this reality. The need for a more 'connected' end-to-end offering has propelled many incumbent vendors to buy or build solutions that fill holes in their stack.
Time will tell if these strategies will work, but the key will be to create a unified solution that works seamlessly with each other. A single technology partner that delivers strategic benefits as mentioned below, can determine the success of an automation program:
One less integration headache: In a unified product suite, all components of the solution are interconnected by design.
Now imagine this wasn't the case. And you had to integrate a disparate set of point solutions with your already complex IT landscape. The IT portfolio of today's enterprise consists of myriad applications and infrastructure. Some legacy, some on-premise, some on the cloud. Some speak to each other, others don't.
A single vendor allows you to bypass the effort and time required to get 4+ solutions solving for different aspects of your journey. You don't have to worry about first integrating these solutions among themselves before being able to use them effectively within your program.
Connected insight into your business and tech landscape across each stage of the journey: Many programs are challenged with different teams using different technologies to solve for specific pieces of the puzzle. Consultants doing discovery, business teams tasked with process design and documentation, and IT stuck trying to translate process definition documents (PDDs) into production-ready solutions.
The result? Many programs lose sight of the end goal and no clear way to scale beyond small, task-level automations spread across the enterprise.
An integrated technology platform provides a natural way to drive better collaboration and connection between your teams. The same insight can be used across various stages to drive consensus, collaboration, and higher impact solutions.
More accountability and faster resolution: Having a single partner means less finger-pointing around the table when things go wrong. With heterogeneous providers, critical time in issue resolution is lost in getting everyone on the same page first.
A single partner also means more ownership across teams. Increased accountability coupled with fewer communication touchpoints means faster and more effective responses.
Strategic vs transactional relationship: A single strategic partner can deliver benefits that go beyond the technical solution. Working on an end-to-end change program across your people, processes, and IT, places them in a better position to understand and deliver your desired business goals.
For example, a partner who transforms your entire supply chain process is going to be more aligned with your overall business outcomes than someone selling you bot-licenses to automate the counting of warehouse inventory.
Clearly the benefits here outweigh the common notions of risks associated with a single technology partner approach. However, what is essential is choosing a strategic partner. Apart from the connected experience, a strategic partner should also have a product roadmap that aligns with your larger organizational goals in the future. Another good parameter to evaluate a partner would be whether they have worked with some large players in your industry vertical before. This ensures that they bring in a breadth of insight around industry best-practices to your project.
The Soroco Advantage
Soroco's end-to-end connected solutions is a case where the whole is greater than the sum of its parts. Our connected product suite was built to address the key challenges at every stage of your journey and help you realize the maximum returns for your automation investments.
Soroco has partnered with more than 25 Fortune 500 companies to build scalable, connected process transformation programs. One such company is Bayer, who chose Soroco as a strategic partner for its supply chain transformation program. Not only did the pharmaceutical giant achieve their business goals, but it also made Galina Gray, VP, Digital Transformation and IT for Product Supply, Bayer Consumer Health, a change champion within the organization.
Galina shared her experiences about Bayer's journey in a webinar with Soroco. Watch the webinar to know how you can spearhead similar transformations-at-scale within your organization.
Vikram Joshi
An advocate of Agile and BizDevOps practices, Vikram has spent the last two decades helping clients disrupt age-old challenges with Innovation. In his spare time, he loves taking up sustainable living initiatives.